Come see us this season and look whose been here over the past seasons.
Dec
3
Sat
2022
(Trom) Bones East Octet
Dec 3 @ 1:00 pm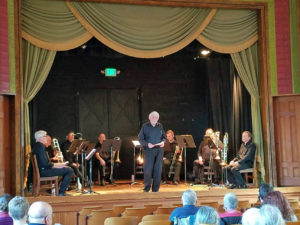 On December 3 at 1 PM, as part of Christmas in Aurora, the Bones East Octet, an eight piece trombone ensemble, will perform a family friendly holiday concert featuring popular Christmas music including Jingle Bells, The Twelve Days of Christmas and Silent Night, a few classical pieces and maybe some jazz at the Morgan Opera House. The group has performed at colleges, churches and community events and even to enthusiastic audiences at the Morgan Opera House. The eight trombonists range from semi-pros to talented students who volunteer their time and effort. The concert is free but monetary donations for the King Ferry Food Pantry are appreciated.  The Morgan Opera House, 370 Main Street, Aurora, NY, is handicapped accessible using the ramp on the Cherry Avenue side of the building.
Bones East Octet is fortunate to have William Harris, former principal trombonist with the Syracuse Symphony and music professor at Syracuse University and Onondaga Community College serve as conductor and Tom Camp as Arranger and Co-Conductor.
For further information contact Wayne Blann, fwayneblann@gmail.com
Dec
17
Sat
2022
The Shepherd's Play
Dec 17 @ 7:00 pm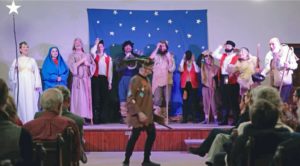 The Poplar Ridge Players' annual production of the Shepherds' Play (our 44th year!) will be based in Aurora—at the Morgan Opera House– showtime is 7PM on Saturday, December 17. Admission is free.
The Shepherds' Play is a Medieval play preserved by an isolated community living on an island in the Danube River and not transcribed until the late 19th Century. Parts were handed down through families—something like that has happened with our group, consisting of your friends and neighbors. Like the wonderful Middle English Second Shepherds' Play, it blends slapstick with reverence.
The Poplar Ridge Players are grateful to the Morgan Opera House and Aurora Free Library for making the great space available.
For more information call/text Chris MacCormick at 607-351-6864