The Gloria Peter Theater Series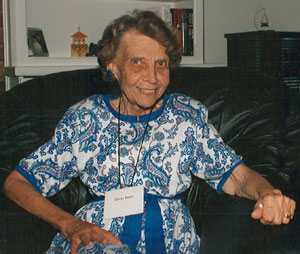 Gloria Peter was a woman of wit, charm, intelligence, and great creativity. She was born Gloria Barnell in Lincoln, Nebraska on April 17, 1925. She graduated from College View High School in Lincoln in 1943. Promptly upon receiving a degree in radio broadcasting from the University of Nebraska in June of 1945, she married George Peter, of Ithaca, New York. They enjoyed sixty years of wedded bliss. Far away places always appealed to Gloria and she happily followed George to Arecibo, Puerto Rico where they were one of the five original families involved with Cornell University's new radio telescope. After 2 years, they returned to Warren Road in Ithaca in 1962.
Gloria quickly became a community asset wherever she lived. While raising four children, she served as Camp Fire Girl leader, Den Mother for Cub Scouts, volunteer in the "FISH" program (emergency help), Sunday School teacher, Matron of the Order of the Eastern Star Forest City Chapter, Republican Committee Chairperson, supporter of the Fresh Air Fund and Meals on Wheels and lead the Women's Fellowship of the First Baptist Church in Ithaca. In Arecibo Gloria was organist and a choir member at the Presbyterian Church and a hospital volunteer.
From 1975 to 1987 Gloria worked for the Admissions Office of the Cornell Graduate School of Management, a job she found highly satisfying.
Following her move to Aurora in 1972, Gloria focused her energies on the Aurora Free Library, the Morgan Opera House, The Thursday Club, The Fire Department Auxiliary and her position as secretary and six time Matron of the Order of the Eastern Star DeWitt Clinton Chapter. She and George mentored and housed many youth and young adults, nieces and nephews and continually hosted "fresh air" families. Their beautiful home was made available to friends and neighbors and many community groups.
Gloria's longstanding interest in theater found many outlets. For the Bicentennial of the Constitution, she wrote and directed the play, "New Roof", which was first staged at the Morgan Opera House. She also performed a leading role in "Miss Lulu Bett," a ground breaking play of social realism by an American woman playwright, and wrote numerous skits and plays for various organizations. At the time of her death, June 22, 2005, she was working on an historical novel about the life of Aurora's notable Edith Morgan. Her spirit and enthusiasm continue to inspire those whom she touched.
The Gloria Peter Theater Series was established in 2006.